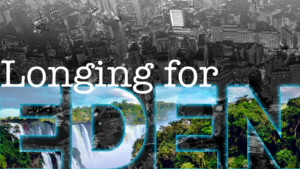 The famous children's show
Mr. Rogers' Neighborhood
took everything normally associated with great TV and flipped it on its head: low budget, no shiny persona, and slow moving. But what it had was an echo of Eden.
Mr. Rogers' Neighborhood
conveyed love, welcome, friendship, acceptance, safety, peace, unity. We long for Eden — a world free from sin, suffering, death, arrogance, depravity, fragmentation, and selfishness; a place where love, truth, and goodness reign. Is there any hope for a world like ours? Absolutely. King Jesus is coming. In part 1 of this short series, we are reminded of where we are in the real story of the world. If you found this message encouraging, SHARE it with a friend.
LINKS: Online Bulletin: https://jerusalembaptist.com/onlinebulletinjune7
GIVE ONLINE: https://jerusalembaptist.com/give/
CONTACT US: JerusalemBaptist.com • Office@JerusalemBaptist.com