Summer Retreat
August 3, 2018

-

August 5, 2018

$80 – $107.85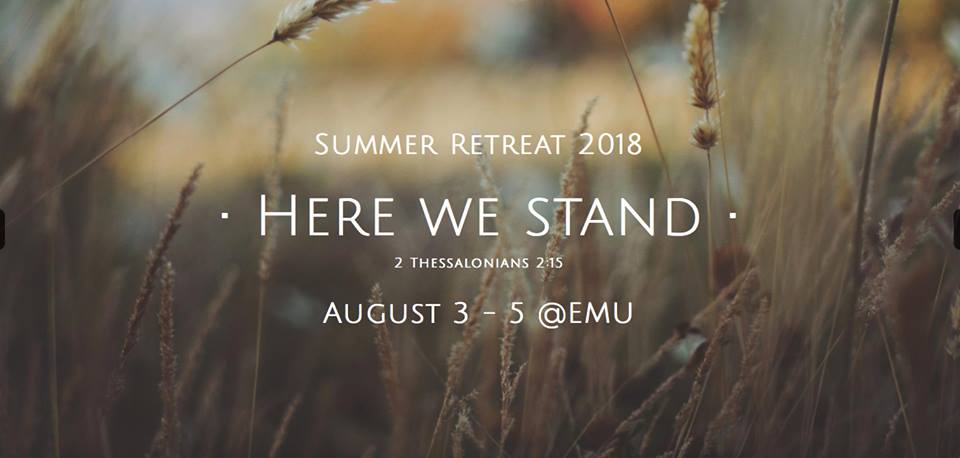 Summer Retreat • August 3–5 • Eastern Mennonite University, Harrisonburg, VA
Theme
In a rapidly secularizing society, we need to share and live out the gospel both intelligently and lovingly.
What does it look like to practically defend the faith with gentleness to those who are lost?
Living in a culture knee-deep in issues such as racial discrimination, immigration, abortion, and the definition of marriage, how should we as Christ-followers interpret social justice?
How does our understanding of God-centered justice influence how we act and respond to the directions of society?
Our theme is "Here We Stand" from 2 Thessalonians 2:15: "So then, brethren, stand firm and hold to the traditions which you were taught, whether by word of mouth or by letter from us."

Speaker: Milton Harding
In addition to being a godly man, husband, and father, Milton Harding was a former Chaplain with the Washington Redskins. Milton is passionate about sharing the word of God in practical ways to effect change in the lives of all people. Milton is committed to edifying and strengthening the body of Christ while directing the hearts of believers to the love of God, through His word and His Holy Spirit!
Setting
Join us in the Shenandoah Mountains in lovely Harrisonburg, VA, at Eastern Mennonite University (2 hours from NOVA) for an inspiring weekend. We will have a guest speaker that will discuss standing firm and holding fast to the teachings of the Gospel. There will be great music and worship, food and fun, and a warm time of fellowship!
This is a great family event, so bring the kids and youth as well as grandparents. There will be something for everyone. We will stay in the dorms and eat at the dining hall, so there is plenty of room.
Registration
The price for the weekend covers meals and lodging for the weekend (Friday night through Sunday morning)
$80 per adult / youth (member of any JBC fellowship)
107.85 per adult / youth (non-member)
$50 for children under 11 years old
To register, please complete this survey and provide payment by check or cash with "Summer Retreat" in the memo field.
More Information
There will be an email sent out in July that covers the packing checklist, retreat logistics, and basic rules of the campus. Also, there will be another survey going out in July to help arrange rides to the retreat.) For more information or questions, contact Josh Lee at
heyjoshh@gmail.com.
Eastern Mennonite University, Harrisonburg, VA